<![if !vml]><![endif]>

Exquisite Folly

"A riveting mystery set in New York City in 1765"
Thomas Fleming, author of Liberty! The American Revolution, read a late draft of Exquisite Folly, and declared it "a marvelous combination of suspense with a superb portrait of New York society."
Kirkus Reviews issued the following appraisal on July 29, 2015:
<![if !vml]>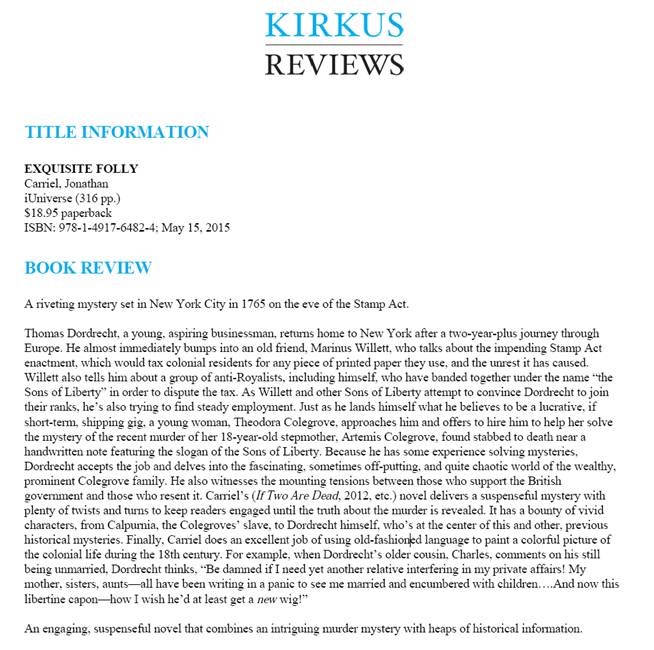 <![endif]>
Historical Novels Review (Online) appeared August 1, 2015:
<![if !vml]>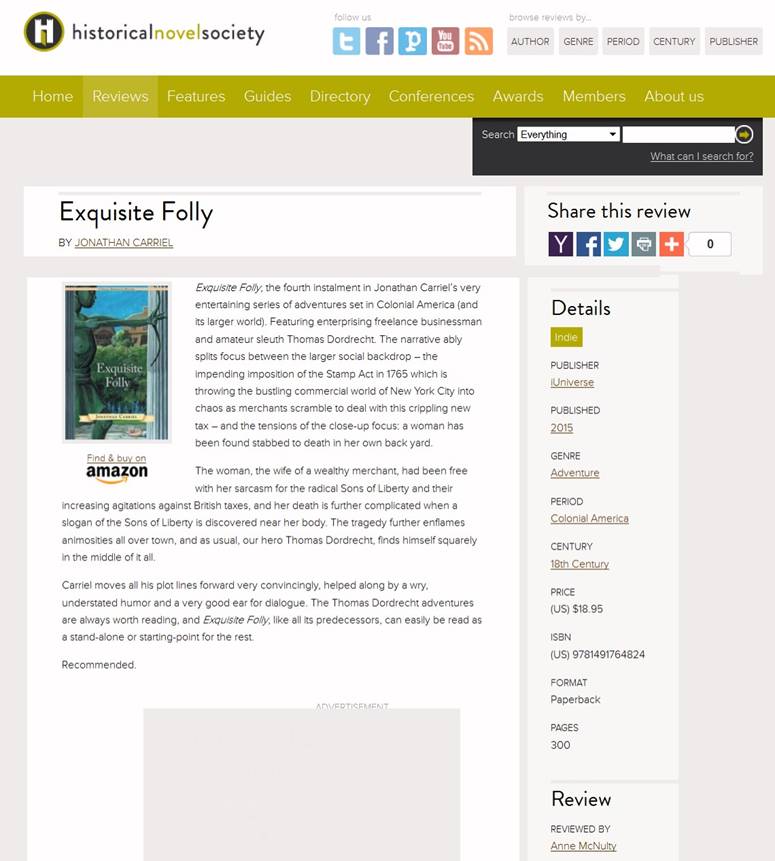 <![endif]>

If Two Are Dead
"A quick and engrossing murder mystery"




In this third novel of Carriel's series ... colonial politics, family dramas and a murder mystery converge to confound the young Thomas Dordrecht, a clerk in a promising shipping company. When Thomas learns that Daniel Sproul, a partner in his firm, has been found dead of unknown causes in a New York alley, the inconsistent details of the case immediately spark his investigative sensibilities. ... Upon his return, Thomas traverses New York, New Jersey and Pennsylvania collecting clues, interviewing witnesses and forming an unexpectedly unusual theory of Sproul's demise. His journey into Sproul's final days is compelling, so that when the culprits are brought to trial and their verdicts given, the reader is as invested—and surprised—as Thomas. ... A quick and engrossing murder mystery in colonial America.

–Kirkus Indie Reviews





Dordrecht is a clerk in a shipping firm, not a detective or amateur sleuth--one of the author's many choices that makes his book a refreshing read. Carriel infuses his story with just enough period detail to make it feel authentic; while there are tankards of ale and bosomy tavern wenches aplenty, Carriel doesn't bombard the reader with useless trivia. ... When his hero journeys upon the waves, Carriel knows how to make his readers feel as if they are right there with Dordrecht. From the officer's bunks that "resembled nothing so much as coffins" to the unsavory "burgoo" (a porridge-like stew) set before him, everything Dordrecht sees, touches, tastes, smells, and experiences aboard ship rings true.

–ForeWord Clarion Review by Mark McLaughlin

Carriel's writing is assured, precise and carefully edited. Often in historical novels, the dialogue is either overly modern or stilted and dated; Carriel deftly avoids either of these pitfalls with realistic conversation that is appropriate to the time period. Through the exciting storyline, he takes the reader on unexpected twists and turns, and as a result, If Two Are Dead would make a history or a mystery lover a very happy reader.

–Blue Ink Review (June 2012)

Rape, murder, and mayhem are the order of the day—yet Carriel's books are not violent and delve into cultural customs and lore of the pre-revolutionary period. His books are rich in describing everyday life. Log onto Amazon.com for hard copy or Kindle versions. You won't be sorry!

–"The Telltale," Nyack (N.Y.) Boat Club newsletter (July 2012)
Thomas  Dordrecht is perplexed.  Daniel Sproul, a partner in the shipping firm he works for, has been found dead on the street.  But the dead man had been in good health, and his body bears no marks of sudden illness or violence. Thomas puts this question aside when he travels to the Caribbean on the firm's business.  But the mystery follows him there and back; if Sproul was murdered, how was it done?  Thomas hunts the answers to this puzzle from New York to the Caribbean and back, from Paulus Hook to Philadelphia. On the way he discovers a complicated plot that has killed more than one man.
Set in 1762, this well-researched book will appeal to anyone who is interested in American history.  The mystery is a substantial portion of the story, but the depictions of commerce in an arena controlled by strict British colonial law, of social life complicated by slavery, and of family secrets in a time when people could easily disappear for decades, are almost more interesting—a good thing, since both the method and the motive of the murder itself are underexplored. As a mystery, this book has its flaws but it is still an enjoyable read.  Recommended.
—Historical Novel Society Review by Laura Staley (December 2012)
The iUniverse Editor's Choice!

Great Mischief

"makes history come alive"

<![if !vml]><![endif]>
Reviewed by Historical Novels Review Online, February 2010
In Great Mischief, Jonathan Carriel returns his readers to the New York village of New Utrecht in 1759 for another adventure of Thomas Dordrecht, an impressionable young war veteran in a tight-knit community of Dutch[-speaking] settlers. A prisoner being held in the public stocks is found one early morning with his throat slit, and to clear his own family of any implication (his father was supposed to be guarding the prisoner, and it's Thomas himself who discovers the hideous deed by trying to wake the prisoner)—as well as out of a sense of justice—Thomas seeks to learn the truth of the matter.
Carriel has done a phenomenal amount of research. His website features extensive background material on practically every character, building, and livestock animal in this book and its predecessor Die Fasting; to put it mildly, you don't often find murder mystery novels with this kind of back story, and while it actually adds nothing to the plot, the hyper-earnestness of it all is oddly charming....
Great Mischief's main strength isn't revealing a crime but instead revealing a time; by walking us through what daily life was like in colonial America, Carriel makes his history come alive. His characters crack jokes, do housework, agonize over whether or not to invest money in buying a black slave, and travel through a New York world utterly alien to Zagat's or Gossip Girl. Readers will want to revisit that world—I'm hoping Carriel has many trips planned.
—Steve Donoghue
Great Mischief Wins Recognition
On May 14, 2009, C. Goulet, Awards Administrator, announced that Great Mischief was chosen one of ten Finalists in the 2009 Next Generation Indie Book Awards, an industry competition.
Meanwhile, friends have kindly stated that they found Great Mischief "even better than the first one," and that it "was the first book I ever finished while on a [usually hyper-active] Caribbean sailing vacation!"
An English friend wrote in December 2009: "Thank you again for Great Mischief. I read it entirely because I enjoyed it, rather than out of any sense of loyalty to an old friend! Die Fasting wasn't bad, but this was an order of magnitude better. I found the attention to the detail of the lifestyle and values of New York at that time absolutely fascinating. Keep going!"

<![if !vml]><![endif]>

Die Fasting

"Dordrecht is an engaging character, and the book is highly readable."
Die Fasting received an independent, professional review from Historical Novels Review Online of August 2007. Here it is, quoted in its entirety:
DIE FASTING
Jonathan Carriel, iUniverse, 2006, $17.95, pb, 265pp, 0595415105
Set in colonial North America, Die Fasting follows the adventures of Thomas Dordrecht, a young Long Island farmer of Dutch extraction as he joins a newly raised regiment of the colonial militia to fight the French in 1758. Dordrecht travels with his new platoon north from New York into the wilds of upper New York colony where he gains his first experience of battle at the disaster of Ticonderoga. The death of one of the other soldiers at the hands of Indians during a hunting expedition several days later seems one more element in a less than glorious experience. But over the days and weeks following the battle, Dordrecht gradually comes to the realization that his friend could not have died in the way reported, but indeed must have been murdered by one of the others in the hunting party. He then sets out to identify the killer, uncovering a veritable quagmire of resentments and injustices among his fellow militiamen as he goes.
Dordrecht is an engaging character, and the book is highly readable. My only reservations concern the dialogue, which some readers may find far too modern and anachronistic, and the slightly implausible feats of memory displayed by the platoon in recalling the hunting expedition weeks later. Nevertheless, I enjoyed this adventure mystery novel and look forward to reading the next in the series when it comes out. –- Cas Stavert
Frederick Cookinham, creator of the In Depth Walking Tours (highly recommended by Jonathan Carriel!), and author of The Age of Rand, presented the following capsule review to a regular meeting of the American Revolution Round Table of New York:
<![if !vml]><![endif]>